By
Eric
(ForumPro)
Date
21-07-2004 11:02
Gevonden tijdens het surfen in mijn (zeldzame) pauze op het werk;

In de laatste editie van ZZZ Online staat een artikel over slimme onderzoekers van de Universiteit van Califonie, Berkely. Zij hebben een alternatief ontwikkeld voor batterijen van laptops en andere draagbare engergieverslinders.

Een micro automotor met een inhoud van 0.778 . 10 -4 cm3 moet voor 30 watt vermogen zorgen. De motor werkt op basis van het wankelprincipe en produceerd net zoveel 'uitlaatgassen' als anderhalf mens in rust. Grappig als je bij de benzinepomp staat om je laptop bij te tanken. Een uitleg over het gebruikte principe staat hieronder:

The scientists decided to use a two-stroke engine which doesn't have separate intake/exhaust strokes. Instead, the piston movement uncovers ports during the cycle which simultaneously draws a fresh charge of fuel/air through one port and forces the exhaust gas out another port. In terms of emissions, this engine is not as "clean" as the four-stroke engine, but it is simple enough to be constructed using standard MEMS processes. Another thing the developers did to simplify the engine manufacturing was using a flat, oval-shaped chamber and triangular rotor. As the rotor rotates within the chamber, the edges of the rotor act to partition areas of the chamber into smaller volumes where combustion can occur. Combustion acts to further rotate the rotor around the chamber, transferring force to the shaft that is attached to the rotor.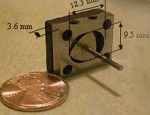 By
Caecil
(Rotary SuperSpammer)

Date
30-07-2004 19:41

Ook handig in je camera, elektrische tandenborstel of staafmixer.

By
Tertou
(Powerposter)

Date
02-08-2004 16:09

Ja, leuke :)
Hebt jij geen url ? Ik dacht er was ook een artikel mee... ;)
Powered by mwForum 2.29.7 © 1999-2015 Markus Wichitill